Are those two related?
It was an eerie experience I had not too long ago at
YouTube
.
I was searching for
Au fond du temple saint
from Bizet's opera
Les pêcheurs de perles
, the aria for tenor and baritone to end all arias for tenor and baritone.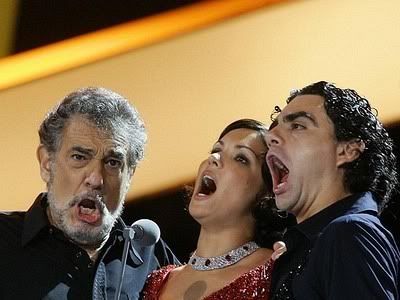 First, there popped up that performance by Roberto Alagna and Bryn Terfel, which would have been rejected by any self-respecting vaudeville show and that is about all I'm going to say about it, then I stumbled over Placido Domingo and Rolando Villazón and wished I hadn't.
In open-necked shirt and with straggly gray beard, Domingo performed a fair impersonation
shtick
of Saddam Hussein, whereas Villazón sported a hairdo, that gave an entirely new depth to the epithet "greaseball" and the only good thing about it was that, as one of the commentators at
YouTube
put it, that Domingo finally sang with the baritone voice God gave him. At the Berlin
Waldbühne
that was, in July 2006. And better forgotten.
But then I was rewarded for my pains. There they were. At the very bottom of the page. In a recording from 1970. Alfredo Kraus, not even arguably the most underrated tenor in the history of opera and Barry McDaniel, an American baritone who never got the international acclaim he clearly deserved because he chose to work almost exclusively in Germany. Two guys, exceedingly handsome, immaculately groomed in white ties, no popular gimmicks, no tricks. Just pure art. Boring, eh?
All I could think was: what effortlessness, what style, what poise!
So while natural good looks certainly help, they are only marginally related to style.
What made Domingo, by any standard still a good-looking man, let his beard grow until he resembled an old dosser and what Villazón, who is certainly considered handsome by those who are into the Latin Lover thingy, to empty half a bottle of salad oil over his hairdo? What made them both wearing scruffy-looking open-necked shirts under bedraggled-looking suits? Were they dressing down for their audience at the
Waldbühne
? If yes, I don't want them at football events. On second thought, I don't want them at football events AT ALL. Why, on the other hand, do we feel that Kraus' and McDaniel's performance was so special (apart from their singing)? It wasn't JUST their markedly good looks and not JUST their impeccable grooming and even when that thick red hair had gone scant and grey, the ice-blue, long eyes small and the skin over those spectacular cheekbones saggy, Alfredo Kraus was still the epitome of elegance and style. Can you imagine that man performing at a football event?
It's in the bearing. It comes from within.